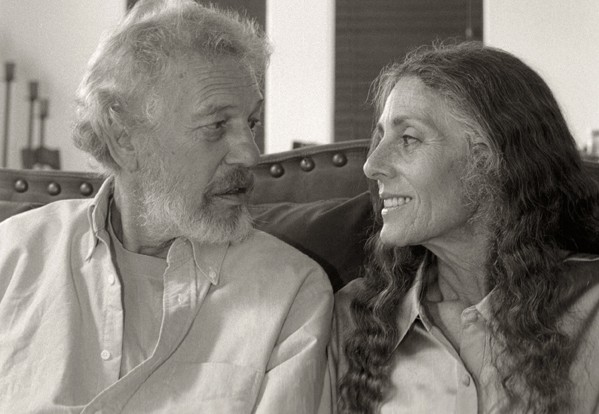 "My best friend died when I was eight years old. And that affected me. I'd never had really any loss. I was brought up in a middle class, Jewish household and talk of, sorrow wasn't something that was spoken of. But in his house, when I came to visit they said, "He's not here anymore." The sorrow was so deep and I had never really seen that state of mind much before and I thought it was so appropriate. He was such a beautiful kid…
He was killed by Auschwitz; he was a survivor and he'd been one of the children they'd done the… That's still raw. And that's good."
"I think grief gives us a sense of what being alive and what being in love is about."
Stephen felt deeply and was an ambassador of sorts for the emotional realms. It takes courage to  feel our feelings in a culture that would steer us into distraction and denial of the hard stuff of life. Sitting with Stephen, I experienced him moving through states of emotion as he shared his wisdom and stories,  savoring, remembering and feeling the flavors of his life. His fluency in being alive and in love and in grief was so tangible that my nervous system relaxed the way it does in the face of truth where there is room for all parts of ourselves to join the conversation and we take a deep breath of relief.
Since his death in January of this year, I think often of Stephen's beloved wife, Ondrea Levine and her grief since his death. Their relationship was rare. They told me that they were always together, even when Stephen was asked to do a public talk. They requested two chairs be placed on stage so Ondrea could sit next to him. Ondrea is profound in her kindness, wisdom and humility and sitting across from the two of them was a blessing that felt rare and tender. Ondrea said,
"The people we know that are the most joyous are the ones that are willing to face their grief and their pain."
This post is as much dedicated to Ondrea as it is to Stephen. My love and gratitude for their devotion stays with me and speaks to me still. The sweetness of the grief I felt in their presence and the sweetness of the grief I feel now after Stephen's passing make me feel more alive and in love in my own life and it is not separate from them. Maybe this is how legacy works.
I recently learned that Mitsu Suzuki, like Stephen, died in January of this year. She was considered a matriarch of American Zen and published two collections of haiku. She was 101 years old. She wrote a favorite haiku of mine, which was included in Solace, the movie.
 Ink stone cold
Joy and grief
One brush  
– Mitsu Suzuki
The flavors of grief may help us describe faces of grief, which are can be simple, complex, changing, layered and richly human. I think of times when grief has tasted salty, bitter, sour, sweet and even umami (fermented). I would love to hear  how you meet, interact with and describe grief in your life and here's to connecting through our joy and our grief, ink stone cold, one brush.
~Camille