Prefer to watch on your TV?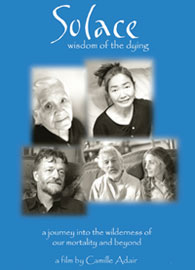 SOLACE: Wisdom of the Dying grew from Camille's intimate experiences as a hospice nurse working with people at the end of their lives. Based on the need to reintegrate the end of life journey, as a natural and sacred human process, she works closely with patients, families, health care organizations and professionals. Solace Wisdom embraces the lost art of dying. This includes how to be with dying people and their communities as a holistic life practice.
Purchase Solace—Wisdom of the Dying on DVD
The below button will take you to PayPal to purchase the DVD.
It is fantastic. Fantastic. Every person's story is a bold and humbling reminder of how little we know about life/death's continuity and how we cannot make assumptions about other people's experience. I love the familiar faces, the different but cohesive perspectives, (I LOVE Anne and referring to death to her left), the light on the falling aspen trees, and the soothing melodies of Ashana and Round Mountain. Calloway's sense of humor, Ricardo's words about dancing for his partner, Diego's elegantly grounded presence, and Henry's tears for his brother….wow. Thank You. —Anne Hey, RN
A powerful, essential, and gripping program. Hospice centers and the medical profession NEED to see this film.I wish I had gone on (and so I will now) with how exquisite each set-up was for each person—the framing, the lighting, the quality. The sensitivity brought to the people interviewed so they were comfortable… the printed quotes really worked and I loved the interludes of imagery. I know there are fine lines between sincerity and sappy. And I think undermines your idea and displays an overall lack of self-confidence. —Lydia Dishman I think you stayed true to the integrity of the people. I love that you had a mix of folks, too. All to say there's WAY more well done! and thankfulness for this labor of love you have tirelessly produced. Your instincts are right on. —Judy Goldberg