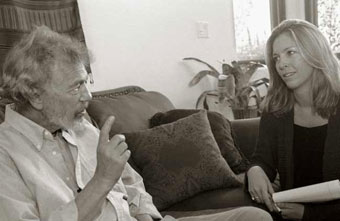 Who need be afraid of the merge?
 -Walt Whitman
Stephen Levine, who died early this year spoke of death as a great possibility to love:
"When we die, all the energy gathers in the heart. And, when the energy gathers in the heart, our ability to love is unparalleled in our lives. It's maybe not until the moment of our death that the heart is allowed it's full expression."
One of the things about death that is remarkable to me is how much we are left with feelings of love that we may not have accessed as clearly when the person was alive. My grandmother died in March. I was with my family, in Oregon, for three weeks and helped her through the dying process. She was reserved with her love and affection while she was alive. In her dying process, I accessed a pure and deeper love for her and for my family and I wonder if this was from her loving us with her heart's full expression?
People often talk about the healing that frequently happens in families when a loved one dies. Perhaps this is not simply a family phenomenon but also a credit to love's potential through the dying. I have been with many dying people over the years and I have experienced a long lasting heat that emanates from the chest of a person who died. As a nurse, I know that circulation slows in the extremities and is reserved for the vital organs. Maybe our physiology and our spirituality follow the same orders of love.
How would our cultural attitudes of death change if we, like Stephen, could see death through the lens of love?

Our media portrays death as entertainment, often a way to terrify and desensitize. Do you have a favorite movie where death was portrayed as natural, sacred or dignified?

My experience tells me Stephen is right about the heart opening at the end of life. Do you have experiences of love informed by death?
~ Camille